Originally Published at Evansonline.com
When you choose Evans, you get more than just quality state-of-the-art console equipment. You get our entire team that has over 40 years of experience designing and building control rooms. You get our team that prepares all the documents and drawings you require. This includes our manufacturing team, project managers, designers, modelers, regional sales managers, shipping experts, and installers.
What's Included in the Evans End-to-End Process?
We are experts at manufacturing the consoles themselves, but we are also very good at managing the whole process to build exactly what you need. From acoustic panels to Factory Acceptance Testing. Learn about how we take care of our clients from start to finish, all the way from initial consultation to ongoing support and EvansCare. Let us help you get your mission-critical environment operating in peak condition.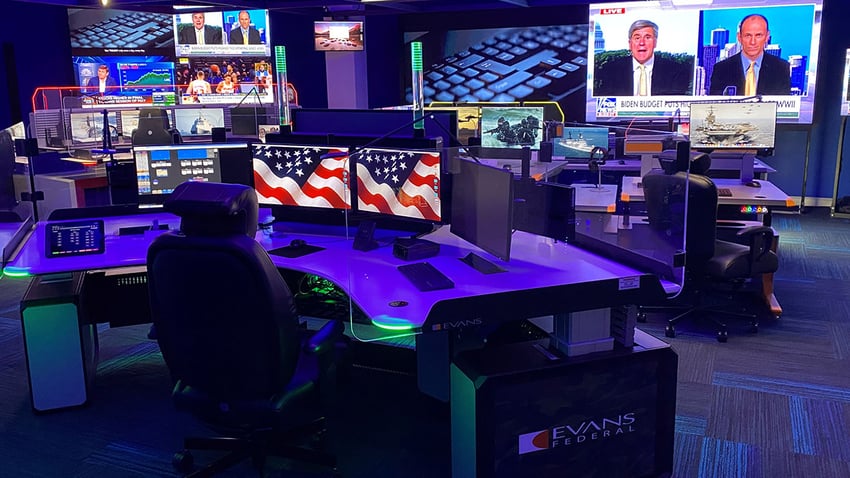 Part 1 of 3 Parts…
What Is Included for Evans Consoles Clients?
Not everyone will require the advanced documentation we describe in the next section. The list here in section 1 is provided for all of our clients at no extra cost. It is quite an extensive list to make sure you have everything you need from the moment you engage with us to well after we install your project.
Here is what Evans includes for all of our clients:
Project scheduling from start to finish – This includes quotes, approval drawings, manufacturing, and installation scheduling. Our goal is to make it work within your timelines and get everything completed on time and with minimal impact on your existing operations (live cutovers).
Detailed engineering drawings – Our design and modeling teams are experts at creating solution drawings for your entire control room including the consoles, millwork, video walls, break rooms and kitchens. They take into account operator sightlines, optimal console positioning and acoustical additions where required.
Storage instructions for your console – Make sure that you know how to leave your consoles when unattended and if you need to store them we outline how to do so to make your equipment last.
Console preservation recommendations – Extend the life of your equipment by practicing proper use of your consoles and maintenance. For things like console alignment and which cleaners to use for the surface of the consoles, we make sure to outline all the best practices. EvansCare is an option to make sure these things are completed once or twice per year.
EvansCare maintenance service – Keep your center clean and improve the morale of your operators with our detailed EvansCare services. This is NOT a janitorial service but a comprehensive maintenance overhaul that cleans dirt and grime from your console, machines, cables and keyboards. We sanitize with hospital-grade cleaners and do all of this quietly and only one console at a time so your center keeps operating fully during the whole service. We will also tighten screws and align your consoles to make sure they last even longer.
Lifetime warranty – Our consoles are built to last and our lifetime warranty backs that up. The Evans warranty includes all fixed structural frame components, and all static exterior panels. worksurface component parts, all adjustable, sliding, or hinged mechanisms or parts (with 5 years for labor). Other components including E-arms, EnviroLinc, and LumiLinc come with a 3 or 5-year warranty.
Client Services – Our client services team is there for any type of question, concern or parts replacement. We are there if you need more monitor arms, additional lighting, or insights on how to use EnviroLinc. Client services is available for you during our business hours.
Consulting and Project Management Teams – You get access to both of these teams at no extra cost. Our consultants will make sure we have taken all aspects of your situation into account including circadian lighting, room acoustics, human traffic flow throughout your center, console positions, raised flooring, and any other topics that are important to you. Our project management group makes sure everything is on schedule from design to installation. We can even provide additional document compliance at your request and at an extra cost. These items are all outlined in Part 2.
How does this list benefit you, your control room, and your operators?
You get what you want and your vision will remain intact, our consultation process and sale team are very good at finding out exactly what you want and need, then making it happen.
Operators will be healthy and work in an ergonomic environment (proper chairs, sit-stand consoles).
Design drawings and revisions. We help you visualize your control room whether it is a new building, a retrofit of an existing space or just the consoles. Our design team will make sure you get what your operators need and deserve. We can even create Virtual Reality walkthroughs of the space to more accurately visualize sightlines and console positions (available at an extra cost).
Hire one company to get it all done, no need to coordinate with multiple firms (architecture, construction, console, AV etc). Get it all done with Evans Consoles, we manage the entire process.
We won't abandon you after installation, we are always one phone call away. You can reach out to:

Your sales representative, they will be happy to answer questions or direct you to the right place.
Client services will help you get more accessories, E-arms or to troubleshoot.
EvansCare as described above will ensure your consoles last longer and your operators stay happy.
Continued in Part 2…