Originally published at Evansonline.com
As the industry leader in design, construction, and implementation of mission critical control rooms, we pride ourselves on being the gold standard worldwide for controls rooms and the consoles that operators prefer. Our goal is to maintain operator comfort including sightlines and ergonomics to make jobs easier to perform. That is why we have teamed up with the best chair manufacturers to extend operator comfort from the consoles to the chair. Learn about the chairs we recommend to our customers and why.
24/7 Intensive Use Chairs for Operator Comfort
Operator comfort should be your top priority when designing a control room and purchasing chairs. They spend long hours day and night at their consoles and we think they deserve the best of the best. Our 24/7 chair partners include Concept Seating, Iron Horse, Allseating and BodyBilt.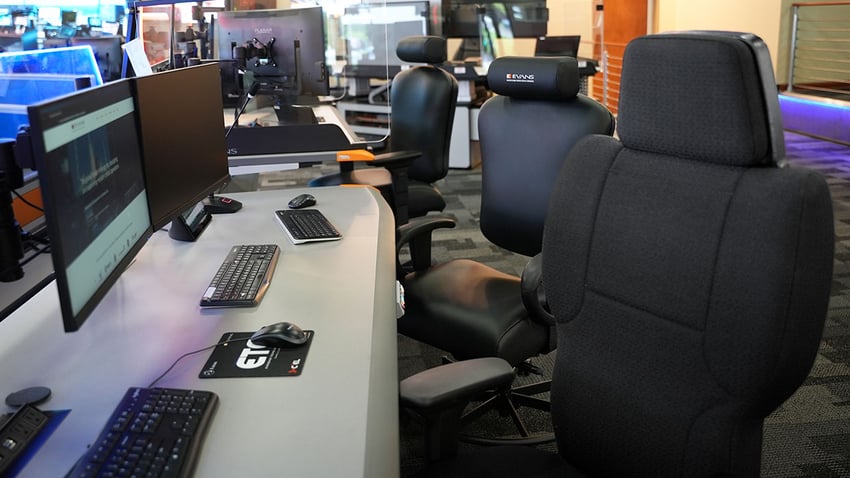 Evans Process and our Perspective on Chairs
Evans has a comprehensive approach to our process that includes consultation, design, manufacturing, and constructing mission-critical control centers. There are many factors that influence an operator, and we try to take it all into account. Even though your chair is not attached to the console, and we do not make them ourselves, they remain an important aspect of your control room. Why select a quality chair from one of our partners?
Improved ergonomics for operator health
Stay comfortable and focused on tasks
Fully adjustable features including lumbar support
Versatility and support for 12-hour days
Heavy-duty weight capacity
Engineered to withstand demanding intensive use environments
Fabric and color options including custom branding
How Long do 24/7 Chairs Last?
The chairs we recommend are durable and last a long time, that also means they can be expensive. But the investment is worth it and will last for years to come. Making the investment now means the cost will spread over more years and on an annual basis you will end up saving money. Not to mention the impact on your operators! Increased productivity, improved health and ergonomics, plus better morale in your entire center. With an ergonomic chair and an ergonomically designed console from Evans, the benefits to your operators are enhanced two-fold.
Comfort & Ergonomics in a Mission-Critical Environment
At Evans, our goal is to make each mission-critical environment optimal for the operator. A big part of their job is sitting (or standing) while working. When they are sitting it needs to be comfortable and the investment in chairs should last a long time. That is why we only work with the best chair manufacturers and believe the higher price tags are well worth it.
A simple place to sit is not enough for individuals who need support for eight, ten, or even twelve hours a day. Without the proper ergonomic support with their consoles and chairs, users can suffer a variety of ailments ranging from discomfort and pain to full-scale debilitating injuries. Our partner selection of 24/7 intensive use chairs provide a wide array of styles, designs, and hundreds of fabric and color options.
Each chair is designed with health and comfort in mind. Each chair features fully adjustable lumbar support systems, which supports the vertebral disk in the lumbar region, the pelvis for spinal column balance, and alleviates neck pain. Our select group of chair manufacturers were chosen for their quality and commitment to producing the best 24/7 intensive use chairs in the industry.